Compliance with IRR17 in the NHS
6th January 2022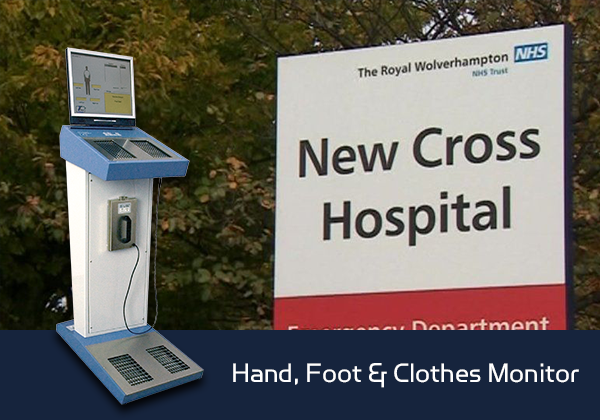 Royal Wolverhampton NHS Trust's Nuclear Medicine Department invests in a new Tema CMS60D hand, foot and clothes monitor
As a Radiation Protection Supervisor, Peter Turner is responsible for nuclear imaging health and safety at New Cross Hospital. He was instrumental in sourcing a new radiation monitor for their Radiology Department. Here he explains why the CMS60D was chosen and how it has performed to date.
Keeping compliant with regulations
"Recent changes to the Ionising Radiation Regulations 2017 have meant we had to move quickly to remain compliant. We chose the Tema CMS60D as it would keep us compliment with the revised legislation and was by far and away the most cost-effective solution available.
"Despite the difficulties presented by COVID, Southern Scientific provided regular updates on the progress of our order right up until delivery of the unit itself, which arrived well-packaged. The installation and initial set-up of the Tema CMS60D was easy and operation is very quick and simple to use.
Automatic background radiation readings
"The Tema CMS60D is fantastically sensitive, more so than we could have hoped for. It can detect background radiation from recently dosed patients and sources moving around it, which we didn't anticipate. The unit takes a background reading upon start-up, which is automatically subtracted from every subsequent reading taken, meaning the results are reliable.
Accurate results immediately
"The LCD screen displays radiation measurements clearly. Because the graphic display can be customized, it allows us to be very precise. It may be a bit of a cliché, but the slogan 'does exactly what it says on the tin' certainly applies here. We knew what to expect from this unit and it has delivered exactly that, so we are more than happy with it.
"The Tema CMS60D exceeded our expectations, delivering the data we need to maintain compliance, and I have every confidence for future inspections."
Find Out More
You can learn more about the Tema CMS60D by clicking the button below to speak with our product specialist directly and have a one-to-one guided session.