Prepare for a biological threat with FLIR's IBAC 2 biological threat monitor
23rd January 2019
Are you prepared for a biological threat?
In the past year, it has become evident that chemical and biological threats pose a real risk to public safety and national infrastructure. The heavily reported recent chemical terror attack in Salisbury caused life-changing harm to both the public and emergency services staff, resulted in an extensive clean-up operation (costing over £2million) and has had a lasting and significant negative impact on local businesses.
Biological threats have also been widely covered in the news in recent months. In June 2018, a jihadi terrorist in Cologne produced a significant quantity of weaponised ricin, a highly potent poison reportedly intended for use in an explosive device. Furthermore in October 2018, key political figures in the US including the President were sent letters that tested positive for ricin.
Weaponised ricin and other biological threats have the potential to cause a catastrophic effect on national infrastructure and the population. Like many other biological warfare agents, only a minute dose of purified ricin powder (in the order of a few milligrams) can be fatal to humans and early medical intervention is key to survival. It is therefore evident that preparedness and early warning systems capable of detecting low concentrations of microscopic particulates are integral to public safety, limiting the population's exposure to potentially fatal threats.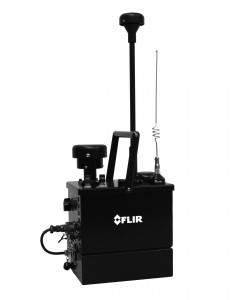 Prepare yourself with the IBAC 2 biological threat monitor
FLIR's IBAC 2 biological threat monitor is an effective early warning system which offers continuous, real-time air monitoring and is capable of detection of airborne biological agents at concentrations below 100 ACPLA, with low false alarm rates. On detection, the IBAC 2 collects the biological threat, ready for further analysis as necessary, and can transmit data to command/control centers, allowing for timely containment, treatment, and remediation of threats.
The IBAC 2 is capable of analyzing toxins, viruses, spores and vegetative bacteria with particle sizes between 0.7 – 10 µM, meaning weaponised Ricin, including poisonous 1 µM particles known to fatally reside in the lungs upon inhalation,[1] is detectable and will trigger an alarm and collection on exposure.
Requiring no consumables, the IBAC 2 can operate independently indoors or outdoors (IP66 rated) and can be integrated into air conditioning/purification systems, making it suitable for use in the monitoring of heavily used and crowded places including the tube, airports, train stations, shopping centers and event venues.
The IBAC 2 biological threat monitor is an affordable and reliable option for background monitoring in both fixed installations and short, mission-based deployments. More than 1000 units are already deployed across the United States, with over 5,000,000 hours of operation time worldwide.
Overall, FLIR's IBAC 2 is an obvious and convenient choice to aid public safety. For further information, pricing or to request a demonstration, please inquire using the link below.
[1] Understanding Ricin from a Defensive Viewpoint: G.D. Griffiths, Toxins, 2011, 3, 11, 1373-1392