New nanoRaider™ provides high resolution radiation detection and identification in the palm of your hand

29th November 2011
Now available in the UK from Southern Scientific, the nanoRaider™ from FLIR is a pager-sized radiation detector that will prove a valuable device for those working in the front line of homeland security.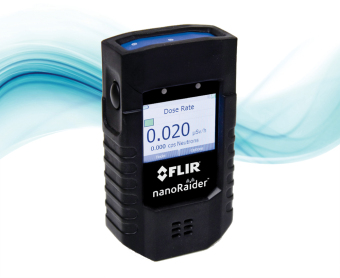 Providing the highest detector resolution available in this size of detector the nanoRaider™ has both detection ad identification capabilities in a single, rugged device and virtually eliminates the false alarms and false positives that are so common to personal radiation detectors.
About the same size as a cell phone, the nanoRaider™ can be affixed to your belt and provides continuous detection capability with visible, audible and tactile alerts. Once radiation has been detected, the fast identification capability of the instrument provides essential information to the used in the field, helping in swift, accurate decision making and the integrated One Touch Reachback™ feature allows the user to immediately send a notification to other team members or other personnel at the touch of a button.
The nanoRaider™ uses cadmium zinc telluride (CZT) detectors that provide exceptional sensitivity and identification capabilities while being more rugged than scintillation-based detectors. In addition, CZT detectors do not require temperature stabilisation. An optional neutron detector is available as is a wide range of accessories. To reduce training time, the nanoRaider™ uses the same easy to understand and navigate user interface that is common to the entire family of FLIR radiation detectors.