Southern Scientific pays condolences to Steve Jackson
14th December 2020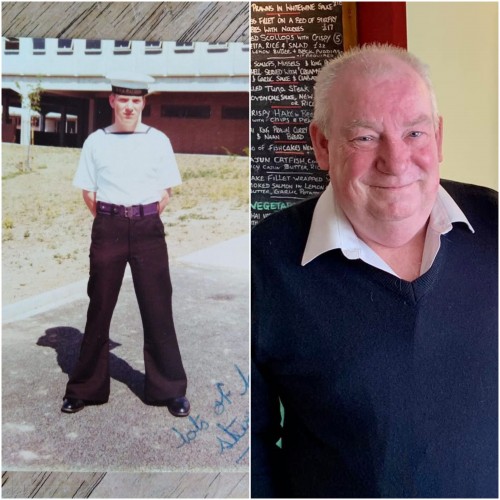 Photo captions: Steve in his Submariner days and Steve pictured post-retirement.
Southern Scientific pays tribute to Steve Jackson
Southern Scientific is saddened to learn of the death of Steve Jackson, former Service Manager at Southern Scientific.
Steve worked at Southern Scientific from 2001 until 2013, previously working at Atomic Weapons Establishment (AWE) and as a submariner.
Stuart Marshall, Service Director at Southern Scientific, said: "Steve, was one the first service engineers at Southern Scientific, starting back in 2001 and leaving in 2013. I personally knew Steve from 2008 when I first started as a service engineer and he was my manager. He was easy going and easy to work with, I have fond memories of my appraisal in the Felixstowe docks viewpoint car park with a cup of tea and a McDonalds. I think he will mostly be remembered by the people that knew him from his time at SSL, for his catchphrases, 'Gotta pull out' or 'Gonna Shoot'!"
Ken Frost, former owner of Southern Scientific, and Peter King, former Service Director, said: "Steve worked for us at Southern Scientific for many years, following his career at AWE and previously as a submariner. He never made a fuss, simply getting on with his work competently and conscientiously. He was always happier with the technical side of things, and in his job as service manager was always keen to play a hands-on role.
"Steve was a good colleague, always keen to help and we liked him."
Ron Bennie, Service Engineer at Southern Scientific, said: "I found Steve Jackson to be a quiet person, he did not say much about himself but he was always very friendly and willing to help. We worked together for a number of years. We did not discuss life we just got on with the job at hand. A great person - he will be remembered."
Wendy Gathern said: "What a lovely gentleman Steve was and a real pleasure to work with, I loved to hear of his tales as a submariner and often made me laugh. I'm sure he will be missed by many."
Our thoughts and prayers are with Steve's family and friends at this sad time. Rest in peace Steve.