Claim your exclusive 20% discount for the AlphaE for a limited time only
7th March 2018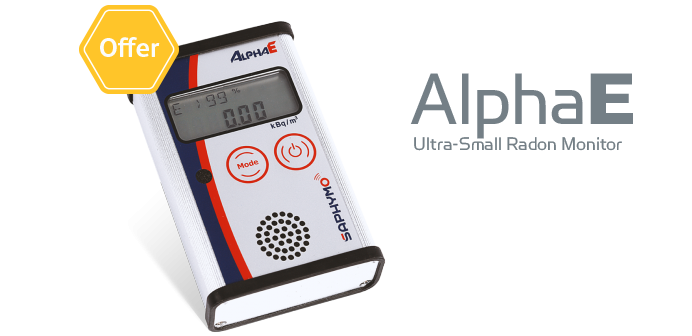 The AlphaE ultra-small continuous radon monitor is ideal for fast and time-resolved radon monitoring in buildings, outdoors as well as in mines. Due to its light weight and small size, it's perfect for measuring personal radon exposure and doses.


This powerful device achieves measurements quickly and efficiently with technology based on a silicon diode diffusion chamber, attaining a sensitivity of 3 cph at 100 Bq/m3 with the potential for measuring low radon levels below 100 Bq/m³.


The
AlphaE ultra-small continuous radon monitor
is a multifunctional measuring tool, simultaneously measuring air temperature, pressure, and humidity as well as the signals of the built-in tampering detector with their respective time stamps.
The device boasts a battery life of up to 6 months, allowing for long-term measurement without the need of mains power.


With free DataVIEW software included for data analysis and visualisation, or the option of DataVIEW PRO for readouts and exporting data to Excel,
DataEXPERT
.
This exclusive offer gives you a 20% discount per new device until the 31st May 2018.