New Mammography Product Catalogue from Southern Scientific
3rd September 2010
Products featured include: the Giotto, a two-in-one full-field digital mammography system that can be converted into a prone digital stereotactic system with prone bed; Visbion's mammography PACS system (IPACS) containing all the specialist tools required for reporting of mammography images; Planilux Eltrono PACS workstations providing ergonomic solutions for medical IT environments.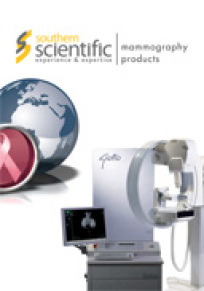 Designed and built by Southern Scientific is the Autotilt Beta mammography couch and Autotilt Sigma couch with quick release facility, allowing a patient to be moved from seated to horizontal position within 3 seconds.

A range of QA instruments, including the RTI Piranha and light probe, Pehamed digital light meters and dose sensors, a variety of phantoms and a wide selection of full and divided mammography viewers are also available.

To view a pdf copy of the catalogue please click here.