Lemer Pax case study: Ensuring optimal conditions for radiation protection in a mobile medical imaging unit
6th October 2020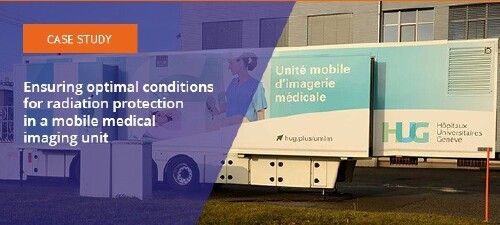 The challenge: Performing mobile PET-CT tests in health and safety conditions identical to a nuclear medicine ward
Read the latest case study from our partners Lemer Pax about a new mobile medical imaging unit travelling along Switzerland's roads, where the Posijet® automatic injector was the clear choice to meet the challenge of replicating conditions of a nuclear medicine ward.
The solution: an automatic injector that meets safety requirements and helps develop care in nuclear medicine
A whole technical room was therefore fitted out inside an armoured 52-ton lorry, abiding by the especially strict regulations laid down by the radiation protection office of Switzerland's public health department.
In this system, Posijet® was a clear choice. Its level of radiation protection reassures the teams, while medical radiology technicians appreciate its ease of use. Lemer Pax's independent fractionation and injection unit for high energy radiopharmaceuticals therefore become an integral part of this new healthcare solution. It turned out to be the top choice among Swiss nuclear medicine teams for equipping the new mobile medical imaging unit.
Installation: a custom-made support service
To use Posijet®, the technicians insert a multidose bottle of radiopharmaceuticals at the start of the day. The fractionation and injection unit then calculates the doses for each patient, prepares them and carries out the injection. The medical radiology technicians can therefore take up to eight patients a day (18F-FDG, 68Ga-PSMA or 18F-Choline).
The results: Guaranteed increase in activity, ease-of-use, optimal radiation protection both for patients and users. Safety level equivalent to that of a hospital ward.
Radiation protection among staff ensured
Increase in activity made easier
Better responsiveness with remote familiarisation feature
Staff comfort guaranteed
Find out more about the Posijet®
Bartec is the UK representative for Lemer Pax nuclear medicine solutions. You can read more about the case study on the Lemer Pax website here.
For more information about Posijet®, click the link below.